Undercut – haircut Irish immigrants, glam rockers and modern youth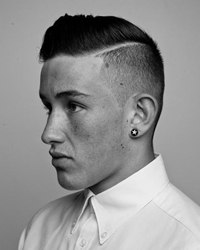 Interesting crowd, pleasant conversation and a bit of relaxing alcohol can inspire to change both image and haircut. Lumberjack barbershop offers a catalog of interesting male haircuts, and each has its history, just like an undercut male hairstyle.
Up to the XX century the undercut haircut has been considered unforgivably cheap. So, it has been popular among the men, who haven't been able to pay much to professional barber and have to do their hairstyles on their own.
Nowadays this comfortable and stylish haircut is worn both by young people and adults. It suits almost to any type of face and doesn't require correction for a long time. Previously the undercut hairstyle has been associated with an island, surrounded by the ocean, as an "island" of hair at the top is emphasized by the shaved sides and back of the head.
The homeland of undercut is United Kingdom. So, its unofficial name is the British haircut. Immigrating overseas, the Irish and Scots has brought a new fashion of this haircut to other countries.
When the versatility and convenience of this haircut had been accepted and understood by the society, the undercut becomes popular among young people, who participate different gangs and communities. It has been prestigious to get a hairstyle, which looks dangerous, bold, defiant and is convenient for a street fight. It has initiated the stereotype, that undercut is worn by bullies and guys with dark past.
During the Jazz age the undercut gains an enormous popularity. This haircut becomes mainstream, so people look for partings variations, learn to stack the upper strand and to shave the sides unusually, creating new varieties of undercut. For example, in the 80s of the last century glam rockers have created the recognizable bouffant of the strands, and electronic music fans have parted their hair in the middle, which resembles the modern bowl hairstyle.
With the second millennium this haircut has gone out of fashion as soon, as it has entered it before. Everything has changed, and people forgot about comfortable, stylish and universal undercut for nearly 10 years.
Beginning with 2010 this hairstyle becomes popular again. Young people begin to adopt the fashion of 30s and 40s, raising or combing sideways the strands on the top, inventing even more options to use this hairstyle.
Lumberjack is a barbershop in Kiev, where we try to show men, that even the most brutal lumberjack can look great, if he trusts the master's hands. If you are interested in the undercut hairstyle, our experts are at your service.