One of the most common men's haircuts with the interesting title "crew-cut" is considered to be a genuine classic hairdo.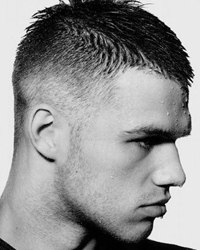 Stylish look and comfortable structure of the hairstyle made her name and it enslaves hearts of men all over the world. Men's haircut crew-cut is ultra-short, stylish and neat one, which could bring every man brutality, charm and resoluteness.
A lot like this stylish fade haircut differs from this one not only in performance technology, but in look too. Hair is sheared shorter, edging border passes above the nape of the neck, the minimum length gives hair accuracy, it doesn't lose its shape a long time. Hair do is easy to care and set, the strands don't stick and don't stare in different directions.
The history of this hairstyle leads to the military barracks. Due to its convenience, it has become an integral part of every soldier's equipment ammunition in the army. Any rookie could cut his hair with ease himself or anyone else could help to do it without even a slightest skill. In the absence of the electronic hair trimmer, this hairstyle could be easily done even with a hand trimmer.
Hairstyle gained widespread use during the Second World War, when rookies, enrolled in the army, were sheared very short before basic training. It was part of the ritual of initiation of young boys into soldiers. The haircut "crew-cut" worked from a psychological point of view as a way to standardize the appearance of the soldiers; common soldiers were figuratively deprived of their personality at the entrance to the army rank, contributing to strengthening the team spirit. US forces have adapted haircut "crew-cut" quickly enough for all parts.
Many men who served in the army got used to his hair so much, that they continued to wear it on their return to civilian life. Popularity of the haircut has been increasing during the 1950s, in particular among the tidy students of popular Ivy League of American universities. But with the coming wave of rock 'n' roll, long hair grew in fashion for a long time.
Currently, such popular hairstyles as crew-cut and Canadian hair do are sought-after enough among the representatives of the stronger sex. Crew-cut opens all the winning features, demonstrating all the advantages of the man's appearance, gives courage, attractiveness and sexuality. Barbershop in Kiev is the perfect place where every man is the main visitor. Skilled craftsmen create every day dozens of unique images and modern styles. Every visitor of this perfect place for real men becomes our regular visitor.