History The British haircut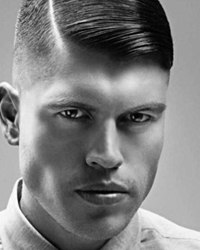 "The British haircut" is the haircut that combines some elements of hairstyles, as a pompadour haircut and flat-top haircut. Sometimes there is something of the other hairstyles. Thanks to the experienced professionals, you can easily fit it practically for any individual characteristics of a person. You can use it with bang, hair part or without these additional elements.
Nowadays men's British haircut is quite popular because it gives some free choice. Haircut has one bright standing element – slight overhang hair stepped forward. The bang, which has a natural length, is fixed in the back or on side very carefully. Each haircut variant has its own advantages and special features. This hairstyle was very popular in the United Kingdom about the middle of the last century. Currently, it has become very demanded. That's why many men are regularly cut their hair that way.
The ideal place for a hairstyle of this format is our Barbershop lumberjack.style. Only experienced specialists and barbers with all the necessary skills to create high-quality in all respects and attractive haircut work in this place.
"The British" became some kind if a breakthrough in due course. A special cream is used for a hair styling. Initially it was used only in specialized hairdressing saloons. But over the time, people began to actively use this cream and other hair instruments at home. Men began to do their haircut without the help of the barbers and specialists.
Then this haircut was considered as a peculiar way of expression and demonstration of a protest. The extravagance of this hairstyle has become something special. It has become a modern pompadour haircut variant for many men. The peak of popularity was in the fifties of the last century, when there was a rock 'n' roll epoch. Many eminent personalities of those times chose this hairstyle variant. It has become a fashionable way of rebellion. Many famous people, for example James Dean, Elvis Presley and many others have such hairstyle. This hairstyle has pleased many British people.
Currently this haircut is very popular because it gives the image of a man some interesting features and zest. Surely many have noticed many men with this hairstyle on the streets. Also, there are plenty of other variants for hairstyles, for example, Canadian haircut, Heine haircut and many others hairstyles, but the British haircut is still considered as one of the best variants of the haircut. The main thing is to get a haircut in our Barbershop, where the best conditions for this are created.