History Fade haircut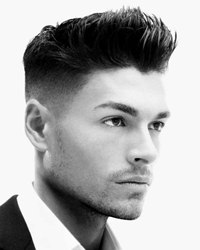 Fade haircut represents one of the most popular men's hairstyles today. It is chosen by practical men, who do not like to be with overgrown hair and prefer attractive and well-groomed looks. This haircut is relatively not so long in comparison with others. The hair on the back of the head are cut by using shearer as well as from the sides. But hair is not cut so short as is the case with a low box hairstyle. A typical structure for this haircut is the presence of a smooth and orderly transition from the long to the short strands.
Men's fade hair cut originates from the United States of America but even before its official founding. During the creation of the national army it was made the decision that all new recruits were able to walk only with short hair. That time became a kind of inspiration for the modern fade haircut. But this haircut fully formed as a separate hairstyles by the end of the nineteenth century.
Rowers from the Yale University began to wear this haircut, after which other well-known teams from the top universities have adopted the habit. Rowers actively sheared by fade haircut because it was practical. Long hair fell on the face, that has a negative effect on the quality of rowing. Rower had not been able to keep the oar and perform all of his functions in the team.
It is also assumed that the rowers did not want to look like football players. They had wore quite long haircut. It was because it helped to protect their's heads from a variety of injuries, acted as a kind of protection. Helmets were made of leather and, therefore, could not provide an appropriate level of protection. But the players began to choose fade, when there were strong helmets.
Nowadays, men's haircuts have a unique features and advantages. It makes it possible for every man to choose for themselves the perfect variant of it. Some haircuts are suitable for one persons, while for the others it is not quite appropriate at all. Fade fits to many people.
The main thing is to be carried out by experienced professionals. Modern barbershop in the Kiev is an ideal in all aspects place to make your haircut. You can make a great fade haircut to be smooth and attractive etc. Skillful barbers are ready to meet the needs of every visitor without any major problems. They present appropriate tools, skills and abilities to realize your ideas of making this kind of haircut. Therefore, making a haircut in this place is a right chose for you. Fade haircut in this barbershop always get a very high professional quality.